1. Introduction
n late 2019, the world faced a new challenge with the first report of Covid-19 disease in Wuhan, China, which soon spread to other parts of the world and caused worries in different people [
1
]. The epidemic and its effects, such as quarantine and social distancing, have affected various parts of human life. An essential part of the psychiatric complications reported following the Covid-19 epidemic included fear, anxiety, and worry [
2
,
3
]. Evidence suggests that the Covid-19 may infect the brain [
4
] and leads to neuropsychiatric symptoms 1 in 36% of hospitalized people [
5
]. Besides, one of the most vulnerable groups in the community during this pandemic are persons with mental health issues.
Various factors such as the need for regular follow-ups, more sensitivity to stressful situations, probability of recurrence of their disease, social isolation, and lack of self-protection from COVID-19 during their hospitalization may bring much stress to these patients and their caregivers. Several studies have been conducted to investigate the effects of the epidemic on the general population's mental health, health care providers, and returnees. Still, few studies have been performed on psychiatric patients. This study aimed to investigate the stresses and worries of patients admitted to the psychiatric ward and their caregivers during the Covid-19 disease pandemic in Iran.
Since the recent Covid-19 pandemic in Iran had the highest prevalence and transmission and patients with psychiatric disorders. It seems that by identifying and controlling the factors causing anxiety and underlying mental illnesses, we can improve caregiving.
2. Method
In this study, a group of patients with mental health disorders admitted to Iran Psychiatry Hospital within one and half a month during the outbreak was investigated. Different causes of worries were studied between the patient, their families, and their caretakers during their stay at the hospital and after discharge.
3. Results
This study aimed to improve the caregiving and services to lessen stressors in similar situations and crises. We contacted 48 patients admitted between late February and early April 2020. They were asked to answer several questions about the concerns of the patient and their families through an online questionnaire. Prevention from meeting their families and fear of infection with COVID-19 were the patients' significant concerns during hospitalization. Their main concern after discharge was the possibility of the reappearance of the disease due to the negative impact of quarantine. On the other hand, the caregivers reported infection with COVID-19 by their patients and unavailability of the patients' doctors as the major concerns during the patients stay at the hospital; while, infection with COVID-19 by the caregivers in routine follow-ups was their main worry after their discharge (
Table 1
&
2
).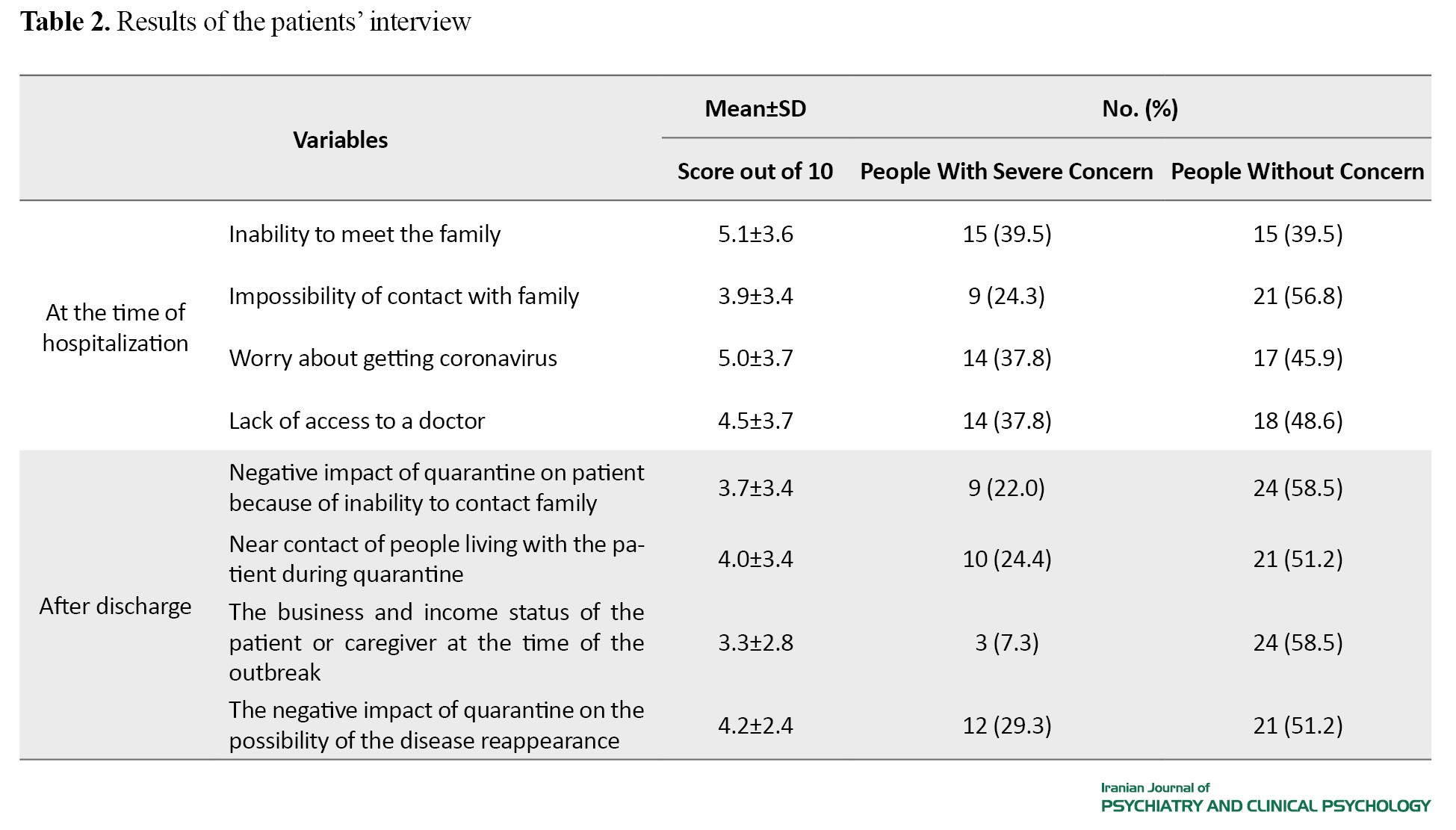 4. Discussion and Conclusion
The COVID-19 outbreak has resulted in challenges in the treatment of psychiatric patients. The need for patients' admittance to the hospital and the inability to provide protective care against COVID-19 caused stress and tensions in the patients and their families. It is very important to reduce stress in patients and their families. Covid-19 pandemic and the new challenges have led to experiences and lessons that changed the health care system worldwide. Our study in confirmation of previous studies suggests several approaches, including limiting the number of patients pre-hospital testing, preparing isolation areas, providing safe places for visiting admitted patients in a hospital, training patients to utilize hygiene equipment and self-protection, and facilitating the application of the telemedicine.
Ethical Considerations
Compliance with ethical guidelines
This study ethically was approved by Psychosocial Health Research Institute, Mental Health Research Center, Iran University of Medical Sciences, Community Mental Health Center.
Funding
This article is based on a research carried out in the needs assessment phase of the study "Action Research to Implement a Psychological Intervention to Promote Mental Health of Staff Treated with Coronary Heart Disease" at the Research Institute for Social Injury Prevention, Mental Health Research Center of Iran University of Medical Sciences. Authors designed and executed.
Authors' contributions
Conceptualization, visualization, supervision, project management: Amir Hossein Jalali Nodooshan; Methodology, validation: Kaveh Alavi; Analysis, research and review of sources: Pourshad Pourzarabian, Kaveh Alavi; Drafting: Saeedeh Shirdel, Marjan Shokrani, Maryam Sadat Alavi; Editing and finalizing By: Saeedeh Shirdel.
Conflicts of interest
The authors declared no conflict of interest.
References