1. Introduction
he prevalence of Coronavirus and its health-related social consequences is one of the most important human social events of the 21st century [
4
]. What distinguishes this spread is people's irrational behavior due to fear of exposure to the disease [
5
]. One of the most important consequences of the outbreak of the Coronavirus is social anxiety [
6
]. Hospital healthcare personnel are always at the forefront of specific epidemics and risk their lives to perform their duties [
9
]. Meanwhile, nurses are at the forefront of fighting infectious diseases in close contact with COVID-19; thus, they are vulnerable to infection [
34
].
In addition to physical stress, they also face tremendous pressure. Because of the nature of the nursing job, it leads to long-term contact with infected patients, and in these critical situations, they provide care as the most basic nursing job [
11
]. The process of providing nursing care is influenced by nurses' working environment [
16
]. There are still concerns about nurses' capacity in the field of care, given the COVID 19 pandemic in the world [
20
]. Therefore, the present study aimed to investigate the relationship between Corona's anxiety and nursing care behaviors in nurses working in Corona's Referral Hospitals in Kerman City in 2020.
2. Methods
The present study is a cross-sectional descriptive-correlational study conducted in 2020 to determine the relationship between care behaviors and Corona's anxiety in nurses working in Corona's referral hospitals in Kerman city. Due to the limited research population, sampling was performed by the census method.
A total of 166 nurses entered the study. Due to the conditions prevailing in the research environment and the limited presence in medical centers, the research was conducted electronically. In other words, the electronic form of the questionnaires, along with the conscious consent form for participating in the study, was designed and uploaded using the online Porsline software. Three questionnaires used demographic Corona Disease Anxiety Scale (CDAS) and Caring Behaviors Inventory (CBI) in the present study.
The demographic and contextual information questionnaire included age, gender, workplace, work experience, education level, and more. CDAS has been prepared and validated to measure anxiety caused by the prevalence of Coronavirus in Iran [
21
]. The CBI, containing 25 items, was used. Its validity and reliability have been confirmed by Watson et al. (1997) [
10
], which mainly covers the professional psychological and technical aspects of care. In Iran, the questionnaire's validity has been confirmed through formal and content validity and instrumentation reliability. Cronbach's alpha coefficient was reported to be α=0.93 [
11
]. The analysis was performed in SPSS v. 18 software using descriptive and empirical statistics by Spearman correlation coefficient tests and Mann-Whitney U and Kruskal-Wallis H tests.
3. Results
A total of 166 nurses participated in this study. Corona's overall score in the nurses studied was 21.39±9.8, and the overall score of the nurses in the survey was 109.7±4.2 ranged 94-118. Spearman's correlation coefficient showed no significant relationship between care behaviors and Corona's anxiety (P>0.05). It should be noted that the number of items in each subscale was different. Therefore, to make the comparison possible, the scores obtained from each subscale and the number of things related to it divided total care behaviors.
The average scores that can be obtained in each case are between 1-5 scores. The highest mean was related to the dimension of professional behaviors with a mean of 4.81±0.48, and the lowest standard was associated with the measurement of inappropriate behavior of 1.25±0.40. Mann-Whitney U test showed that Corona›s anxiety and care behaviors did not significantly differ between the sexes. The Kruskal-Wallis H test showed that Corona›s anxiety and care behaviors did not differ significantly between people with different education and employment in other work areas (
Table 1
&
2
).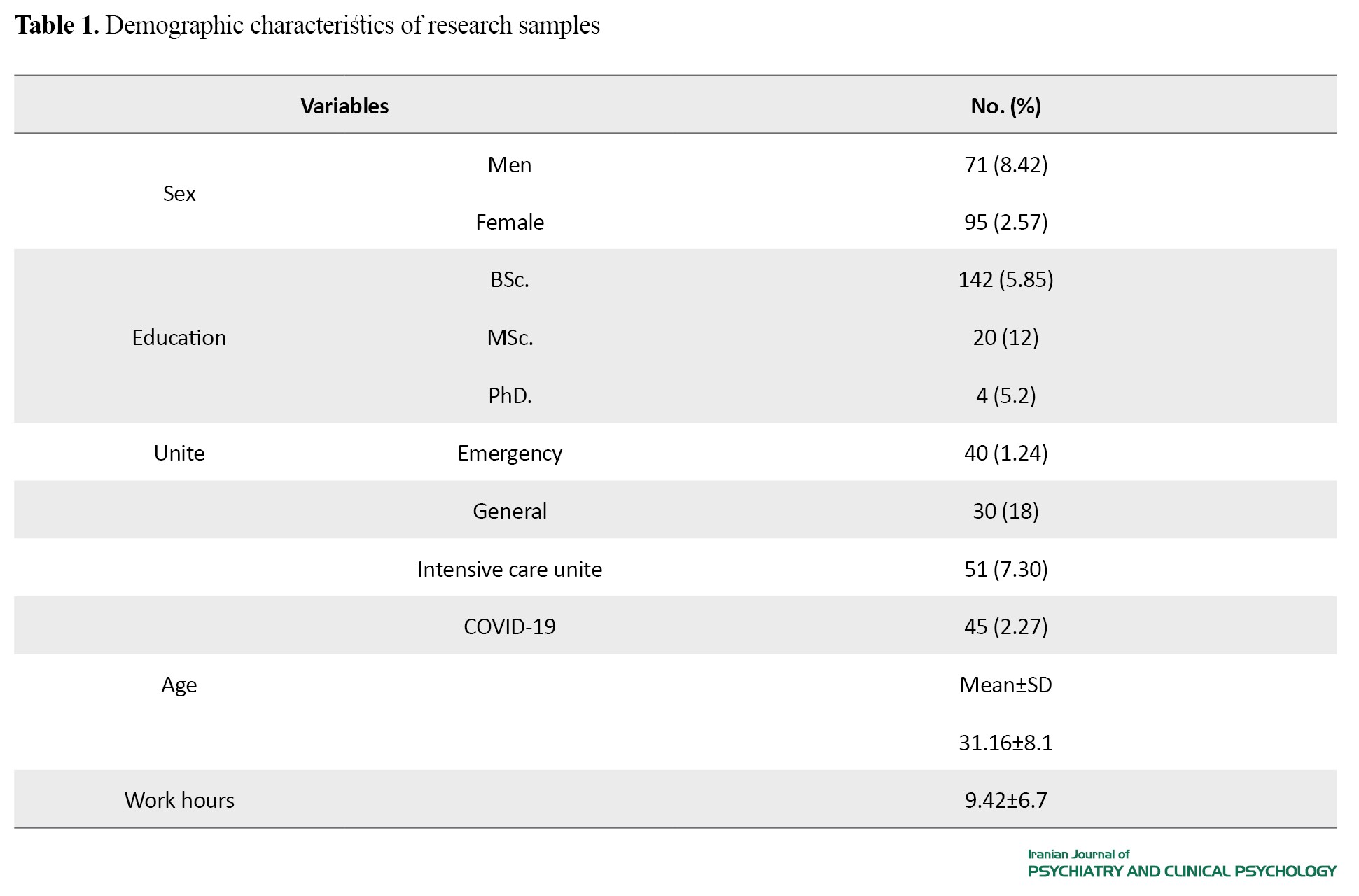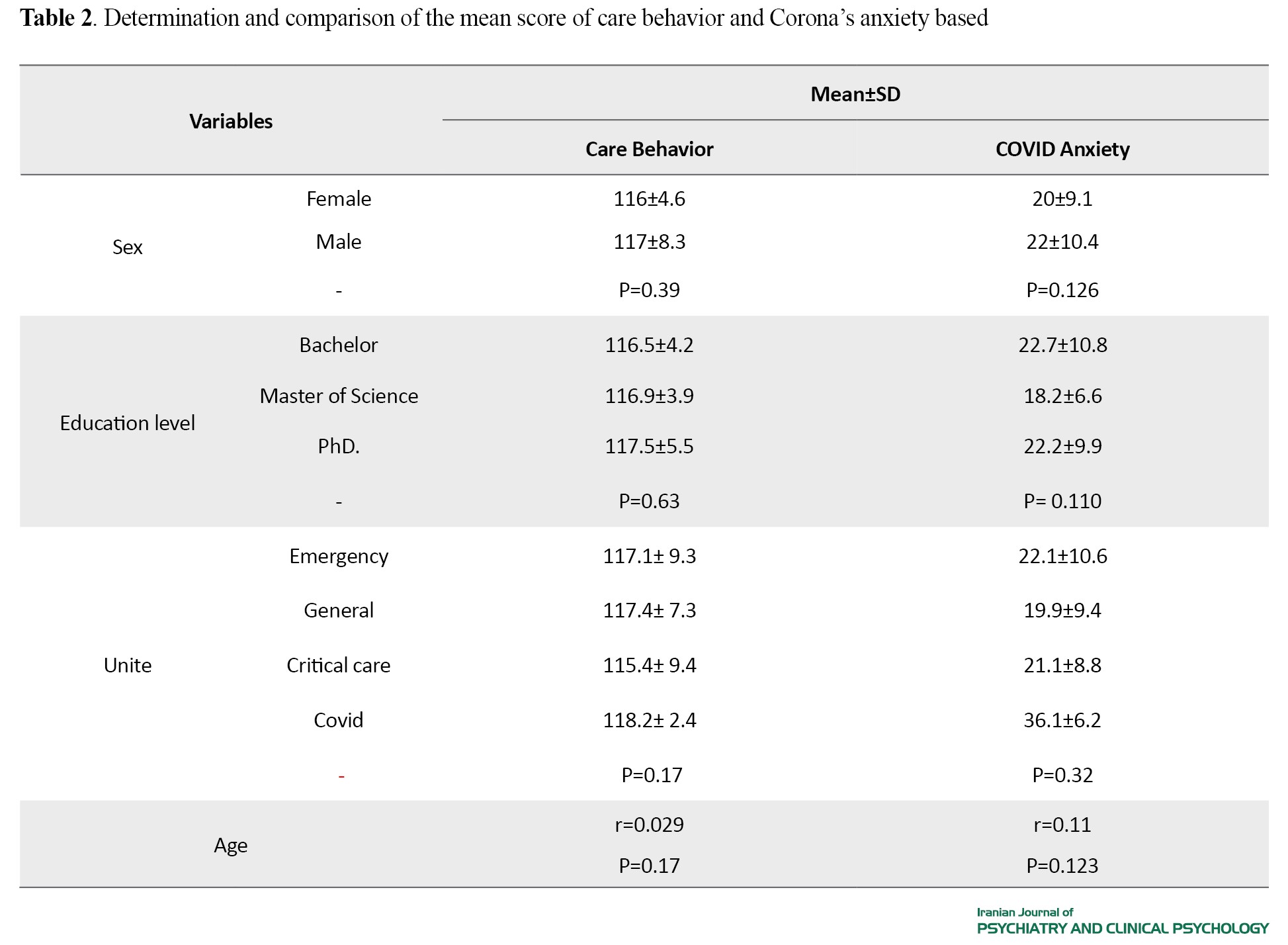 Spearman›s correlation coefficient showed that there was no significant relationship between corona anxiety and caring behavior. In studying psychological and physical dimensions of anxiety, no meaningful relationship was found with subgroups of care behaviors (unnecessary actions, professional behaviors, psychosocial behaviors, inappropriate behaviors, physical-technical behaviors) (
Table 3
).
4. Discussion and Conclusions
The present study showed that COVID-19 is a source of anxiety for nurses directly exposed to it. Basically, COVID-19 is a source of great anxiety for all people and different social groups. Different people experience different psychological levels of the crisis, especially people like nurses at the center of the crisis [
11
]. Another finding of this study was that in general, the mean score of nursing behavior in nurses was high, indicating that nursing behavior was very desirable, and the findings of this study showed no significant relationship between Corona's anxiety and nursing care behaviors. Despite having anxiety, nurses tried to play patient care behaviors as the most fundamental role of nursing. Overall, the medical staff has shown great compassion in the face of the COVID-19 pandemic globally, while it was beyond their official duty [
35
]. These results also confirm that nurses in our country, as one of the largest medical staff groups, were no exception to this rule. However, it seems necessary to provide psychological support to nurses and provide training to deal with corona anxiety in the current crisis.
Ethical Considerations
Compliance with ethical guidelines
All ethical principles are observed in this article. Participants were allowed to leave the study if they were reluctant to cooperate in the investigation and assured that their information would remain confidential. This article has received the Research Ethics Committee's approval steps from Kerman University of Medical Sciences with the identification number 1399.181.IR.KMU.REC.
Funding
This research did not receive any specific grant from funding agencies in the public, commercial, or not-for-profit sectors.
Authors' contributions
All authors contributed to designing, running, and writing all parts of the research.
Conflicts of interest
The authors declared no conflict of interest.
Acknowledgements
The authors would like to thank the Vice-Chancellor for Research and Technology of Kerman University of Medical Sciences, the nursing staff of Afzalipour Hospital and the Payambar Azam Hospital, and all contributors.
Reference