1. Introduction
evere crises, such as global epidemics, natural disasters, human-made emergencies, wars, and social crises, may cause widespread and irreparable disruptions in the areas of individual and social health. After the outbreak of a new viral disease was reported in Wuhan, China, in late December 2019, within a very short time, due to the speed of the spread, it became a global pandemic. With the ever-increasing number of people worldwide, Covid-19 has become a significant threat to the world's health and economy [
1
,
2
,
3
].
Due to the diversity and complexity, as well as the severity of the consequences related to mental health and their significant prevalence in different communities and demographic subgroups, during this period, attention to various aspects of prevention, treatment, and rehabilitation of mental health has been considered by health policymakers and researchers. Thus, studies, on the one hand, indicate the diversity of the consequences of mental health, and on the other hand, remind that due to various factors such as people's background, adaptability, coping skills, social support, and many other intervention factors of development of a single model for the prevention and management of mental disorders and crises would not be effective [
4
,
5
].
Despite the importance and the urgency of the matter, it is very limited, and almost no comprehensive study has been conducted addressing the challenges to provide appropriate models and infrastructures needed for mental health services during the Covid-19 pandemic crisis [
6
,
7
]. Therefore, it seemed necessary to evaluate and analyze the strengths and weaknesses and the most important practical points to improve mental health services provision, according to the published experiences and documents.
Based on this, the present study, using the systematic review principles and methods, discusses mental health interventions in the epidemic crisis of Covid-19 disease. This study's findings will be useful for a better understanding of the psychological impact and prospects of such a pandemic for the preparation of intervention programs to maintain and promote mental health.
2. Methods
To assess the Requirements of Mental Health Services during the COVID-19 all around the world. A systematic review was developed. All available related papers were searched from comprehensive international databases of PubMed and NLM Gateway (for MEDLINE), Institute of Scientific Information (ISI), and Scopus. PsychINFO and CINAHL data banks were also searched. Regardless of the study's time or the date of publication of the results and the published articles' language, all relevant reviews were included in the refinement processes.
As it was not possible to conduct a formal systematic review given the nature of the publications. Instead, it was decided to conduct a mixed systematic and complementary narrative review covering different interested domains.
Quality assessment and data collection
After conducting the searches, all of the results were saved into the Endnote software. Studies with duplicate citations were excluded. In multiple publications from the same data, the most comprehensive source of data was included (
Figure 1
).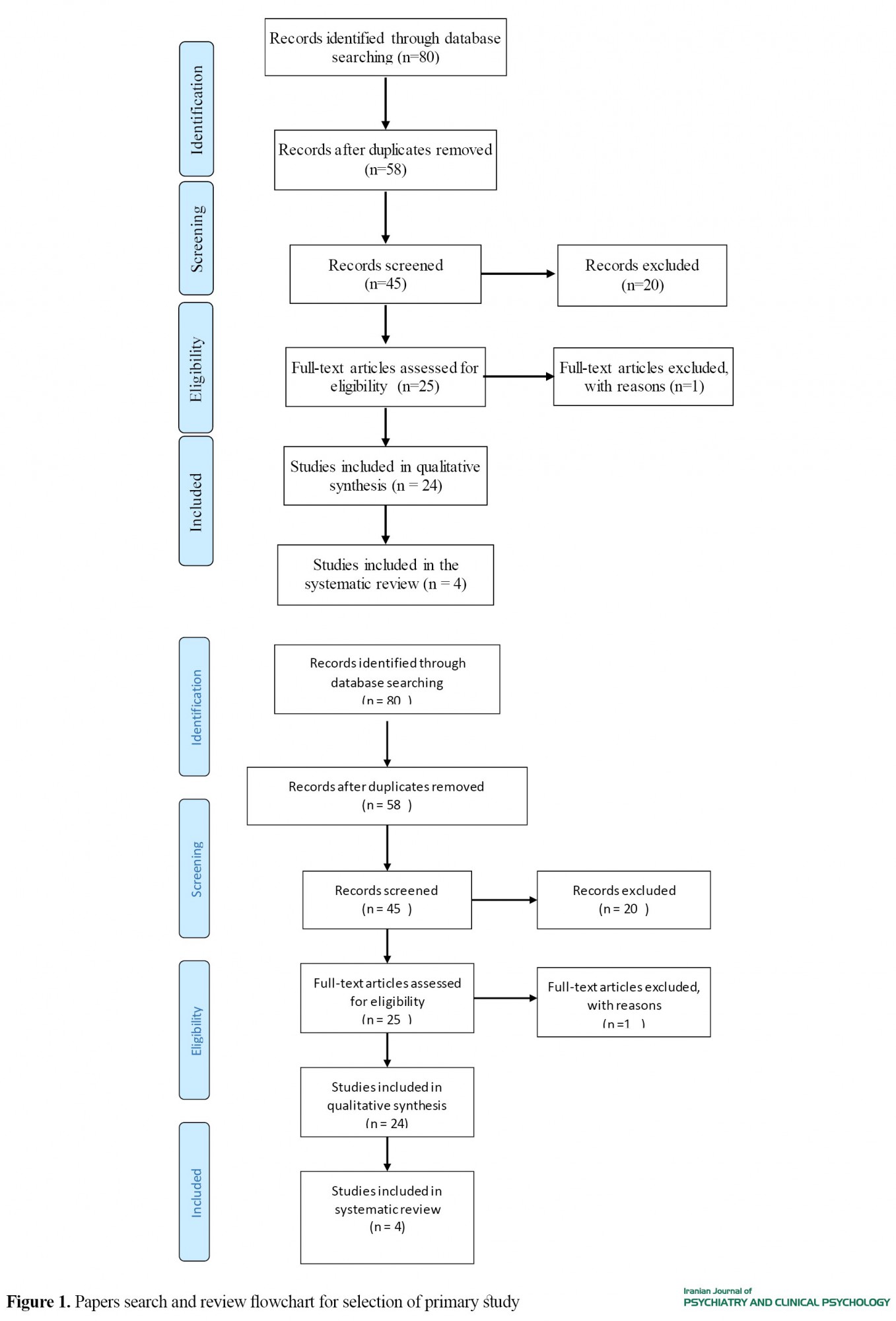 Remained records refined for three sequential steps of relevancy assessment, which was run according to the evaluation of titles, abstracts, and full texts, respectively. Corresponding to the study type, the quality assessment was conducted by using the standard checklists. Data were extracted from moderate and high-quality studies. Considering the scope and objectives of the study, data were extracted by a consorting checklist, information of research and its citation, target population characteristics, methodological information of analysis (the region scope, and local or survey of the study), sample size, age, sex, and exciting outcomes.
All of the mentioned procedures were conducted independently by two trained research experts. The kappa statistic for agreement on quality assessment was 0.94. The main investigator resolved the probable discrepancy between them.
3. Results
After excluding duplicated papers, 58 papers were selected out of 80 papers for the refining process. Three refining steps based on the titles, abstracts, and full texts led to data extraction from 4 eligible papers. Considering the importance of the problem, related findings, key points, and research findings were summarized and presented in terms of key components of infrastructure and resources, including policy for at-risk groups, different approaches to mental health service delivery, indirect contexts for mental health service delivery, follow-up attitudes, and complementary research.
The study's main results emphasized that many studies have focused on the consequences of physical aspects and diagnostic symptoms. In such cases, parts of mental health have been either less viewed or even neglected. In mental health consequences, immediate attention, and planning intensive programs to assess mental health, preparation for support, treatment, and prevention services are emphasized.
4. Discussion and Conclusion
In general, during the implementation of mental health interventions, to improve services and consider the limitations and challenges of implementing programs, it is necessary to pay attention to target groups' attitudes and preferences.
Ethical Considerations
Compliance with ethical guidelines
All included studies would be cited in all reports and all future publications.
Funding
This article is supported by Deputy of Research and Technology, Ministry of Health and Medical Education, and Spiritual Health Research Center of Iran University of Medical Sciences.
Authors' contributions
All authors contributed to preparing this paper.
Conflicts of interest
The authors declared no conflict of interest.
References