1. Introduction
ne of the determinants the community health is social support which indicates the importance of the social dimension of human beings, and has received increasing attention in recent years. Social support refers to the love, dignity, consolation, help, and facilities that others provide to a person. Social support increases a person's adaptability, satisfaction, and efficiency in life [
1
,
2
]. Perceived social support is a mental feeling about belonging, accepting, and receiving help from others when needed [
3
]. Social support sources may include family, friends, relatives, social organizations, or even those available at workplace and educational settings. Since more than 70% of diseases are related to people's lifestyles [
9
], increasing the awareness of the influence of perceptual social support on health-promoting behaviors can be effective in disease prevention [
9
]. A healthy lifestyle includes all the actions and behaviors that reduce exposure to disease in people. These behaviors include proper diet, sleep and activity, exercise and weight control, no smoking, no alcohol consumption, no drug abuse, and immunization. Health-promoting lifestyle is measured by the Health-Promoting Lifestyle Profile (HPLP) questionnaire. It has six dimensions of nutrition, physical activity, health responsibility, stress management, spiritual growth, and interpersonal relationships [
13
]. Haji Amiri et al. showed that the increase of social support improves the health-promoting lifestyle of postpartum women [
14
]. Few studies have focused on the interaction effect of social support on women's health-promoting behaviors including their participation in early diagnosis and screening programs. With the implementation of the national plan for early breast cancer screening in Arak, Iran, we found an opportunity to conduct this study on women participated in this screening program to assess their perceived social support and health-promoting lifestyle, and the relationship between them
2. Methods
In this cross-sectional study, 1000 women (aged 15-71 years) participating in the breast cancer screening program were selected using a convenience sampling technique from 16 health centers in Arak, Iran (about 62 from each center). The questionnaires were completed after providing explanations to the participants about the study objectives and obtaining their informed consent. The 12-item Perceived Social Support (PSS) questionnaire was used to evaluate their perceived social support [
26
]. This questionnaire measures social support from three sources: family, friends, and significant others. The 49-item HPLP was used to assess their health-promoting behaviors [
13
]. The mean, standard deviation, frequency, and percentage were used to describe the collected data, and the Pearson correlation test was used to measure the relationship between the variables.
3. Results
Of 1000 women, 77.6% were married, 74.4% were housewives, 85.5% were living in urban areas, 10.5% were living in suburban areas, and 4% were rural dwellers. Most of them (92.1%) had been covered by different types of health insurance. Statistics reported that 93.1% had proper social support. Their mean HPLP score was 25.35±117.45. Regarding its dimensions, the highest score belonged to health responsibility (7.34±31.78), while the lowest score belonged to stress management (2.98±11.87). On the other hand, their mean PSS score was reported 8.52±44.82. Regarding its dimensions, the highest score belonged to family support (3.22±16.07), and the lowest score was related to the support from friends (3.67±13.68). According to the results in
Table 1
, there was a positive significant correlation between perceived social support and health-promoting lifestyle and their dimensions.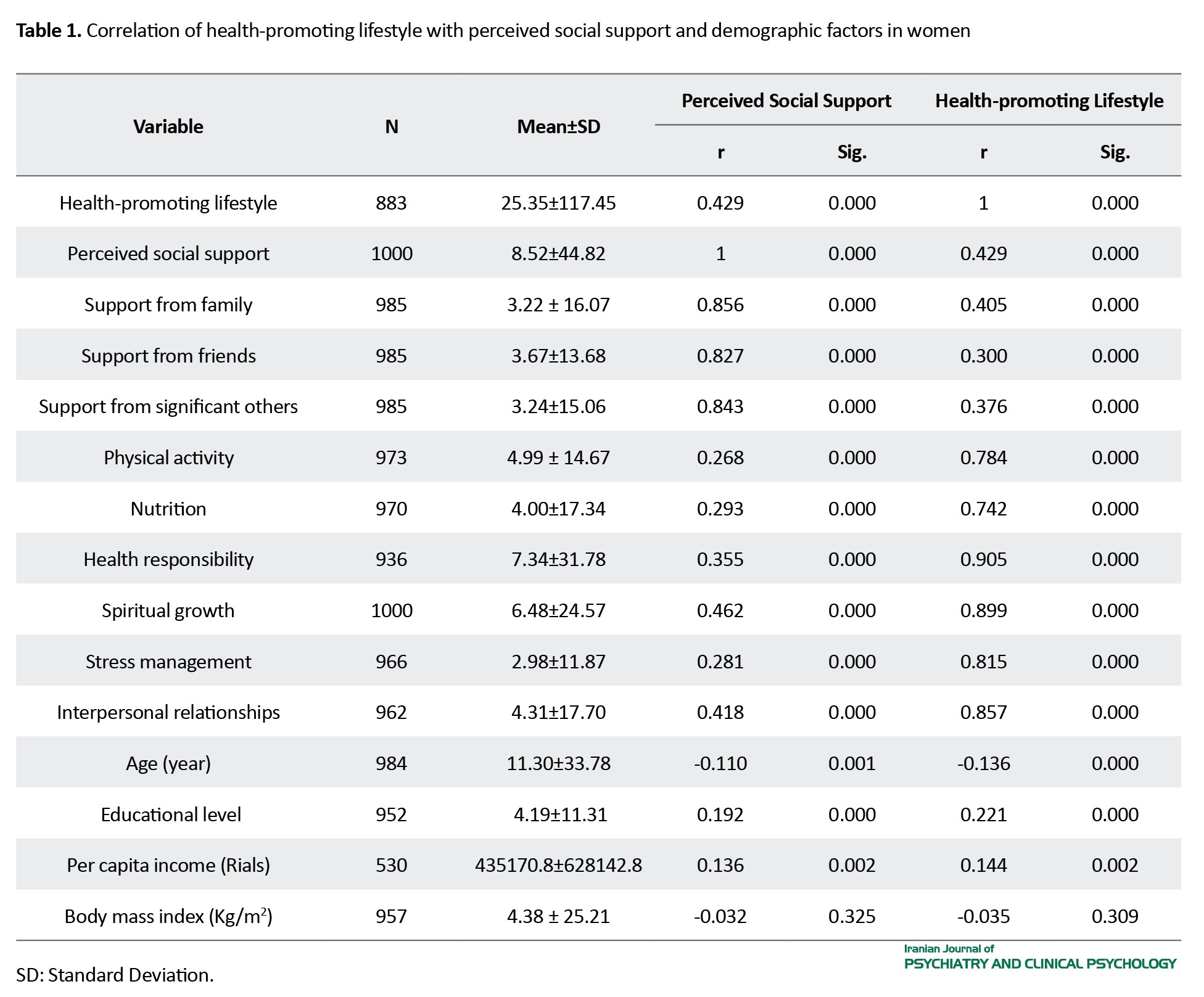 4. Discussion
The results of the current study revealed that women with higher social support had a healthier lifestyle. Demographic factors including age, education and income level had a weak significant relationship with their health-promoting lifestyle and perceived social support. Perceived social support had the highest relationship with spiritual growth dimension of HPLP followed by health responsibility, interpersonal relationships, stress management, physical activity, and nutrition dimensions. A higher level of health-promoting lifestyle can increase social adjustment and life expectancy [
19
]. The results revealed that the most common perceived social support was family support followed by the support from significant others, and friends. Other studies have also shown a significant relationship between the support from friends as a source of social support and the health-promoting lifestyle in the disabled people [
25
].
The results of our study showed a positive significant relationship between perceived social support and stress management dimension of HPLP. Bakhshani et al. reported that perceived social support play a moderating role in the incidence or worsening of depression, and is significantly lower in depressed individuals than in non-depressed ones [
30
]. A study by Abbey et al. on infertile couples reported the effect of spouse support on reducing stress and improving life quality [
36
]. Their results are consistent with our results regarding the effect of family support on stress reduction. Therefore, by improving social support, it is possible to have a healthy lifestyle and health-promoting behaviors, and consequently prevent and treat many chronic physical and mental diseases.
Ethical Considerations
Compliance with ethical guidelines
This study was extracted from a research proposal approved by Arak University of Medical Sciences with an Ethical approval code: IR.ARAKMU.REC.1397.199. All ethical principles were observed in this study. The participants were informed about the study objectives, and were assured of the confidentiality of their information.
Funding
The study received financial support the Deputy for Research and Technology of Arak University of Medical Sciences.
Authors contributions
Conceptualization and methodology: Pegah Mohaghegh, Katayon Vakilian, Nasrin Roozbahani; editing & review: Pegah Mohaghegh; Writing: Pegah Mohaghegh and Manoochehr Radpour; data analysis: Nasrin Roozbahani, Manoochehr Radpour and Pegah Mohaghegh.
Conflicts of interest
The authors declare no conflict of interest.
Acknowledgements
The authors are grateful to the Research Deputy, Arak University of Medical Sciences, Arak, Iran.
References