1. Introduction
elf-harming behaviors such as self-mutilation, self-immolation, self-punishment, and substance abuse are significantly more common in adolescence than in other age groups. The prevalence rate of such behaviors is low, about 1.5-6.7% in children and adolescents, according to the Diagnostic and Statistical Manual of Mental Disorders, Fifth edition (DSM-5). This problem is becoming a serious public health problem worldwide. Although many factors contribute to self-harming behaviors, some factors can play a dual role. Therefore, the present study aims to investigate the effects of temperament and character, emotional regulation, and perceived parenting on self-harm behaviors in adolescents.
2. Methods
Using a cluster sampling method, 430 students with a mean age of 15±0.75 years were recruited. After excluding incomplete questionnaires, 396 were included in the study; then, 64 of 332 who had a Deliberate Self-Harming Inventory (DSHI) score above 5 (the cut-off point), and 95 were randomly entered into the study (Total=159). They were randomly selected to avoid bias in the selection of normal peers. Data were collected by using a self-report Temperament and Character Inventory (TCI), Parenting Styles and Dimensions Questionnaire (PSDQ), Cognitive Emotion Regulation Questionnaire (CERQ), and DSHI. The data were analyzed using the Pearson correlation test and structural equation modeling in LISREL v. 8.8 and SPSS v. 20 applications.
3. Results
As shown in
Table 1
, self-harming behavior was significantly associated with three TCI dimensions (P<0.01).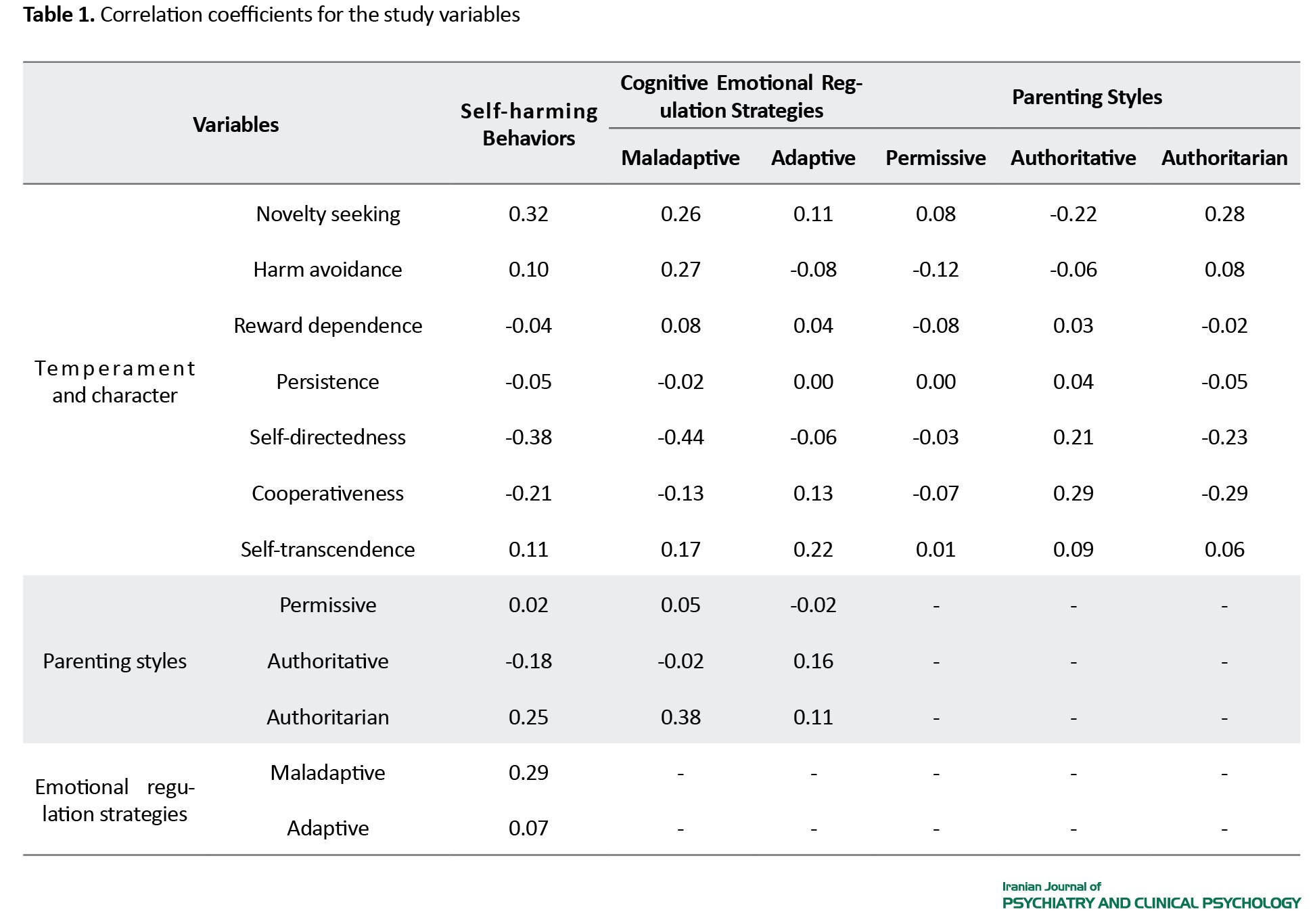 This relationship was negative for self-directedness (r=-0.38) and cooperativeness dimensions (r=-0.21). That is, with the increase in adolescents' self-directedness and cooperativeness, their self-harming behaviors decrease, and vice versa. The relationship was positive for the novelty seeking dimension (r=0.32), indicating that with the increase in adolescents' novelty seeking, their self-harming behaviors increase, and vice versa. The results obtained from the analysis of the initial structural model showed that the fitness indices for this model were as following: Goodness of Fit Index (GFI)=0.91, df=128, X2=143.43, X2/df=1.22, P=0.16, Standardized Root Mean Square Residual (SRMR)=0.06, Root Mean Square Error of Approximation (RMSEA)=0.03, Non-Normed Fit Index (NNFI) =0.98, and Comparative Fit Index (CFI)=0.99. These values indicate the good validity of the final model.
Figure 1
illustrates the final structural model, and
Table 2
presents the path coefficients.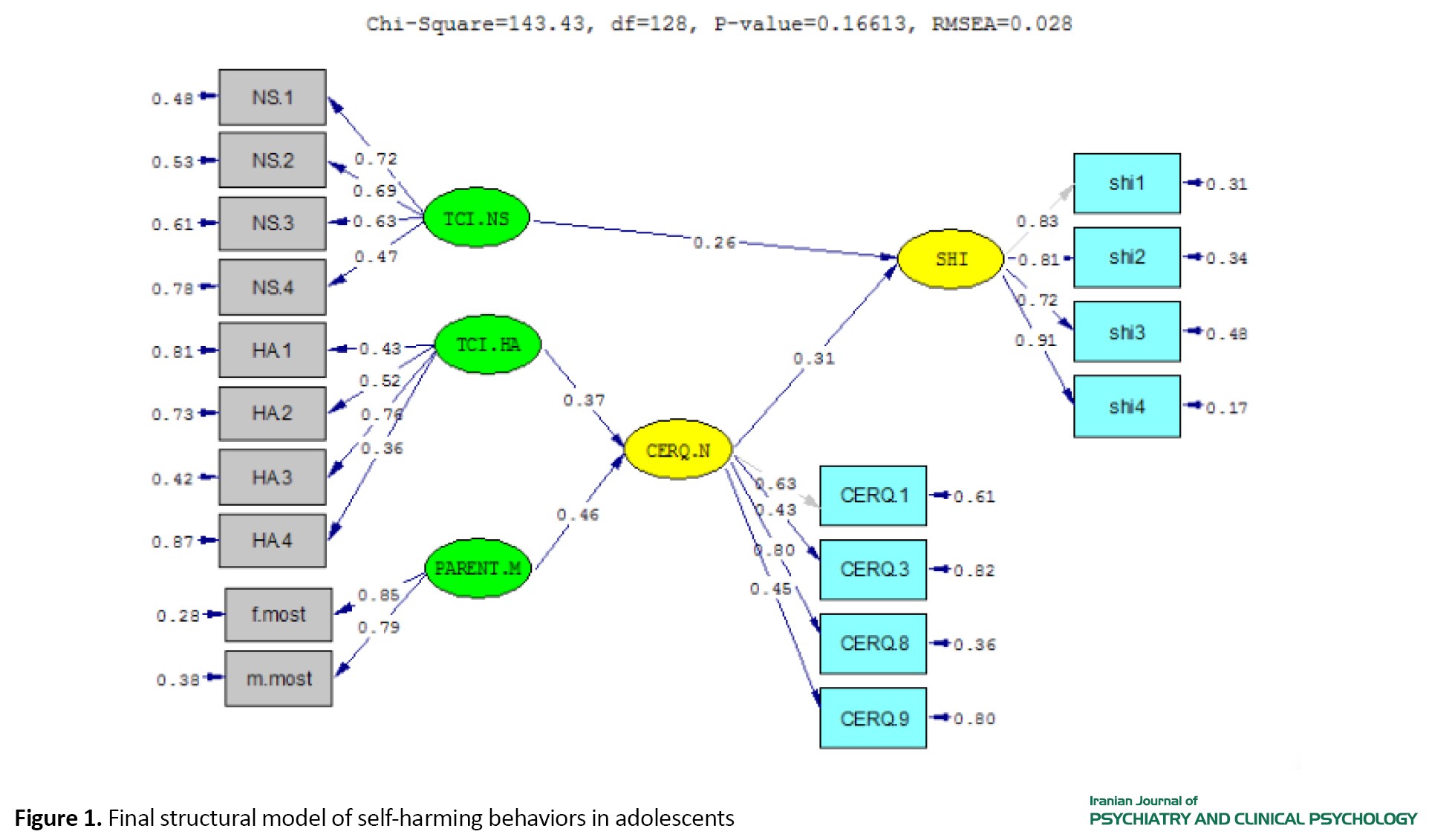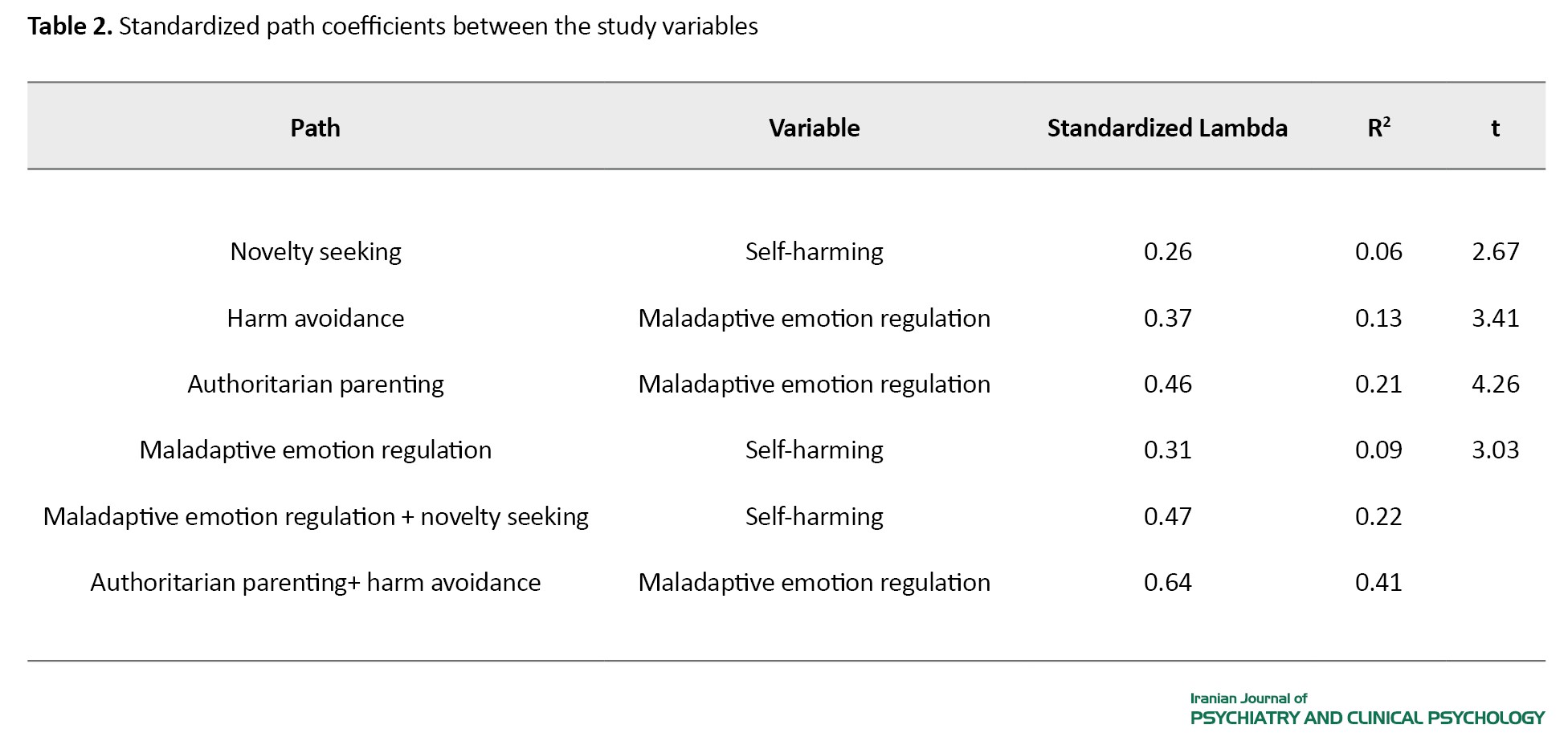 As can be seen, all paths were significant. Maladaptive cognitive emotion regulation strategies (r=0.31) and novelty seeking dimension of TCI (r=0.26) had a positive significant relationship with self-harm behaviors. The increase in novelty seeking and maladaptive cognitive emotion regulation strategies increased the reported self-harming behaviors by 6% and 9%, respectively. However, harm avoidance dimension of TCI and authoritarian parenting had no direct impact on self-harming behavior, but after mediation by maladaptive cognitive emotion regulation strategies, their effects on self-harming behaviors were reported. Overall, maladaptive cognitive emotion regulation strategies and novelty seeking were able to predict 22% of the variance in self-harming behaviors. Although authoritarian parenting and harm avoidance had no effect on self-harming behaviors of adolescents, could predict 41% of the variance in maladaptive cognitive emotion regulation strategies.
4. Discussion
Novelty seeking personality trait and authoritarian parenting can affect the adolescents' self-harming behaviors.
Ethical Considerations
Compliance with ethical guidelines
This study has an ethical approval obtained from Iran University of Medical Sciences (Code: IR.IUMS.REC1396.9411556009).
Funding
This study was extracted from the MA. thesis of first author, School of Behavioral Sciences and Mental Health, Iran University of Medical Sciences.
Authors contributions
Conceptualization, validation, analysis, project administration: All authors; Methodology: Asma Aghebati, Ahmad Ashouri; Investigation, sources, preparation, writing-review & editin: Sirwan Karimi.
Conflicts of interest
The authors declare no conflict of interest.
References